Terms
For detailed information about our lending process, or to discuss a specific deal that you are currently working on, please don't hesitate to contact us. We would love to hear from you!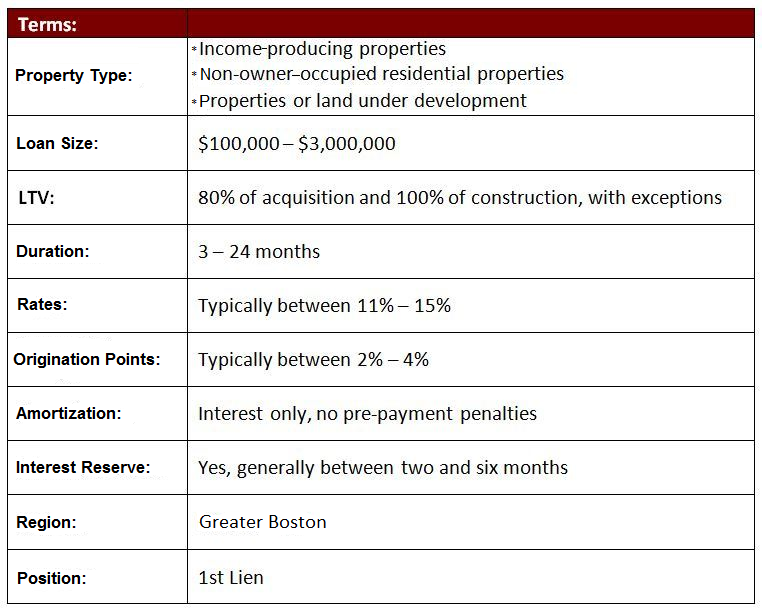 ---
Process
Understanding the private money (sometimes referred to as hard money) funding and closing process for private money loans will give you insight to make the right decision for your new investment. Boston Property Captial ("BPC") will help you all the way. This is what you can expect.
Get pre-qualified. Talk to BPC and get pre-qualified.
Find the right project. Hard money is collateralized with the property in question so finding the right
project is very important. A property valued in the right range may not be in a suitable neighborhood. BPC can help you determine if the project is a safe investment.
Have an exit strategy. Hard money loans are typically short term and usually are between 3-48 months in length. Knowing how you plan to repay the loan (for example, selling, refinancing,…) is a key factor in our decision.
Do the research. You should know the area well. Finding comparisons of similar projects is also important.
Talk to a contractor. BP Capital will need an estimate showing what repairs are needed and the costs involved. Ask us about our sister company, Boston Property Contractors, if you need assistance.
Bring value to the table. We will look for cash on hand, a good credit score, cross collateral, and experience investing in real estate. Not all factors are needed but showing one or more will help.
Have the proper documents ready. Hard money loans are primarily secured with the property.
For a more detailed checklist of documents required by BPC to evaluate the success of your project, please reach out via our contact page.
Letter of Intent. Within 48 hours after your approval, we will send you a Letter of Intent and Term Sheet that needs to be signed by you along with your down payment towards the costs of the due diligence.
Closing the deal. From the time BPC receives the signed letter and due diligence funds, we can usually close within two weeks.
We are looking forward to working with you and can answer any questions you might have. Call 617-282-1400 to get the process started today!
---
Apply
---